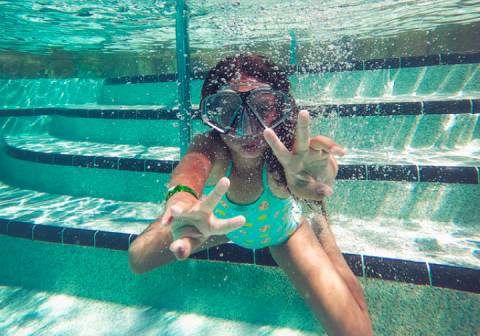 Guests at Pinnacle Port in PCB get full access to our resort amenities. Located right between the Gulf of Mexico and Lake Powell, outdoor activities are abundant here. Stroll the pristine beaches of Panama City Beach right outside your door, kayak the waters of Lake Powell, or venture into downtown Panama City Beach where you'll find shopping, dining, and plenty of entertainment for all ages. Our ideal location grants you easy access to all of the best things to do in PCB! 
Pinnacle Port Resort Amenities
Two swimming pools (one indoor/outdoor and one outdoor)
Four tennis courts
Exercise Room
Saunas
Charcoal BBQ grills
Basketball court
Playground
Shuffleboard and bocce ball courts (must bring your own equipment)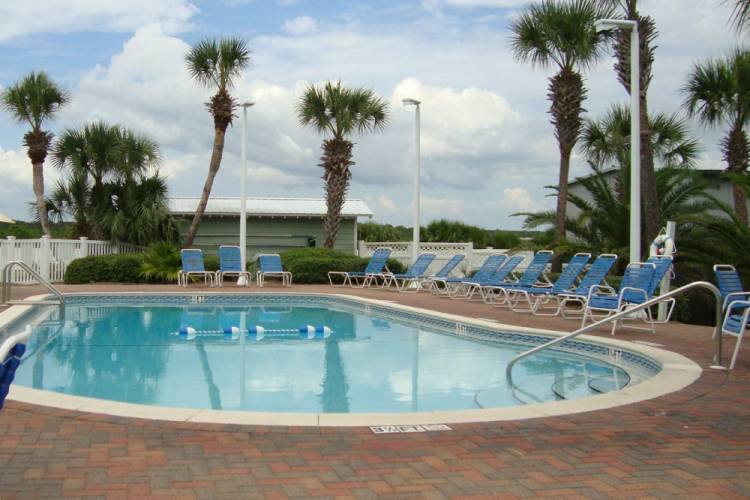 Swimming Pools
Pinnacle Port has two pools for your enjoyment. The small pool is across the parking area from the mid-rise buildings and has 25,000 gallons of water. This pool is not covered, but has a lot of foliage around to make it feel secluded. There is a bath house and drink machines for your convenience. The tennis courts and children's playground are on either side.
The large pool is attached to the main tower building with a total of 118,000 gallons of water. Half of the large pool has a roof covering the shallow end. This allows families to enjoy the cool waters even if they have overexposed themselves to the sun! In the winter, this part of the pool in completely enclosed so the water is heated to a comfortable 82 degrees. This pool sits on the Gulf so you can see and hear the waves. A local top 40 radio station is played over the speakers during daylight hours.
In the busy summer time, the pool deck takes on a different life. At dusk once a week a movie is played poolside. Poolside Cinemas is a free amenity to all guests and owners of these Panama City Beach rentals from Pinnacle Port. Concessions are available for a small fee.
Just inside the main building, across from the men's and women's changing rooms are the men's and women's saunas. This area is open to all guests during the open pool hours.
Access to Lake Powell
Lake Powell is Florida's largest coastal dune lake and is perfect for fishing, kayaking, canoeing, and paddleboarding. This lake is made of brackish water, which is a mix of freshwater and saltwater. Keep in mind you will need a fishing license from the State of Florida. If you are paddleboarding or kayaking, you are able to bring your own devices to enjoy on Lake Powell.
If you are a registered guest at Pinnacle Port, we offer a boat ramp and boat slips at no charge to use! *Trailer parking fee is $10/spot for each week you are here and is payable to the business office*
Docks and Boat Slip
An exclusive amenity provided to guests of Pinnacle Port is the docks with a boat ramp and 26 boat slips. Owners and guests alike have to option to bring their boat or jet skis. There is a small parking fee collected at the guard gate.
In the fall, Barney our pelican mascot can be found angling for scraps from the fisherman on the docks. A fileting station with a cutting board and a sink are provided for your convenience.  Almost anything you can fish for in the Gulf of Mexico you can catch in Lake Powell. Florida fishing license requirements apply to the lake and gulf. Learn more by visiting the Florida Fish and Wildlife Conservation Commission.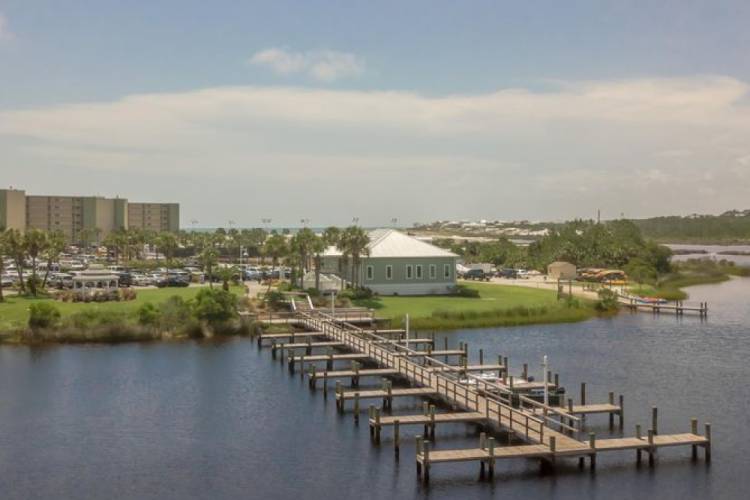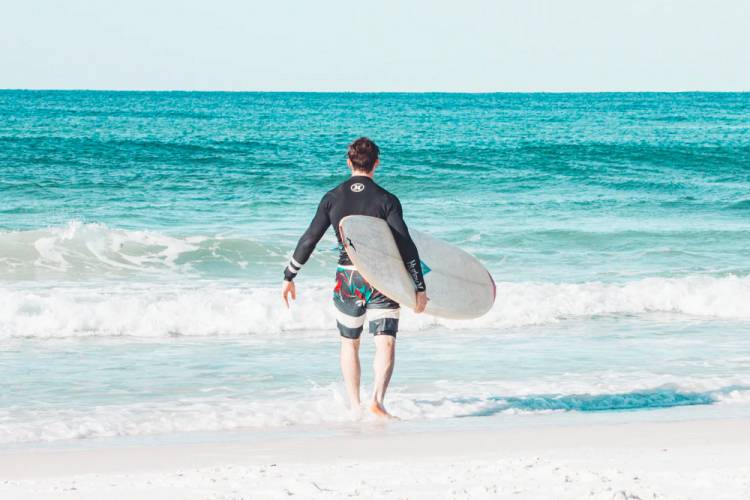 PCB Beaches
No where else in Panama City Beach will you find a resort on the beach and a lake on 26 acres of sand. This private, gated resort borders a State Park on the west and Carillon Beach on the east. We are close enough for daily activities in the congested area of Panama City Beach, as well as Panama City and Destin or Sandestin.
On the beach, we have beautiful sunrises and sunsets. Families take long walks and many begin their life journey together on the white sands. Fishing can be very good right off the shore.
Kid's Playgrounds
This is the colorful children's playground on the west end of property. This area gives the kids a little more to do if they are too small for other activities.
Pinnacle Port Resort allows the grown ups to relax and rejuvenate while the kids are entertained by the locomotive themed playground. The play ground offers a 6 station swing, a train, complete with a tunnel for games of hide-and-seek, a small climbing course, ideal for the little ones, and a fun tube slide.
Let the kids experience the interesting creatures crawling on the beach, day or night, or let them dig holes and build sand castles on the beach. Have them visit our kids pages for great beach games and crafts, travel games, and wildlife info, online games, a Panama City Beach FL shelling guide and a Florida sea shell ID chart.
Take advantage of outdoor water sports, spend a day poolside with views of the ocean, take the kids to fish in the Gulf of Mexico, or embark on an excursion to the Gulf World Marine Park, the Junior Museum of Bay County or Shipwreck Island Water Park.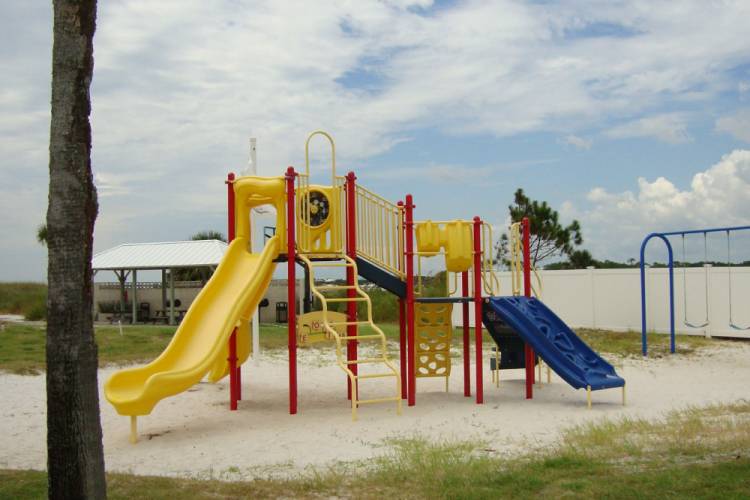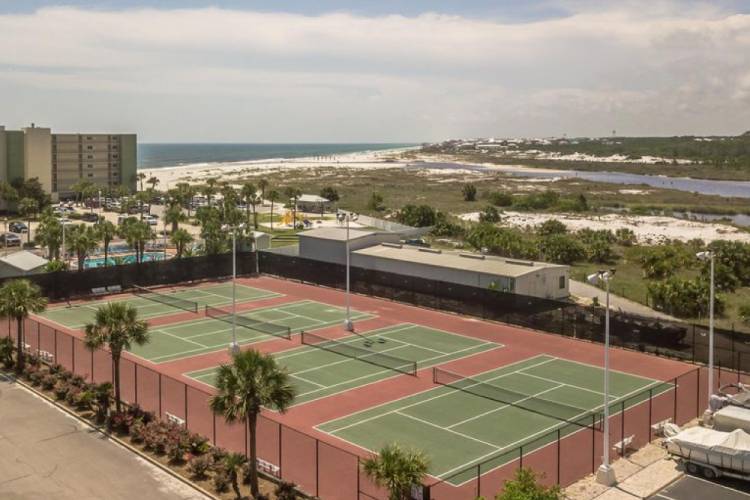 Tennis Courts
Come and play tennis beside the water of beautiful Lake Powell. After spending some time at the Panama City beaches head to the court for some volleying fun.
If you are lucky, the part time resident bald eagle will make an appearance at the top of an old light pole just southwest of the courts. There are four courts that have lighting set on a timer. The fencing around the courts has a wind guard material. The court hours are 5 in the morning to 11 at night. The lights will automatically shut off accordingly.
During the winter season, many tournaments and lessons are held on our tennis courts. At the rental office, you can put down a deposit and use our tennis rackets and tennis balls. See you on the court!